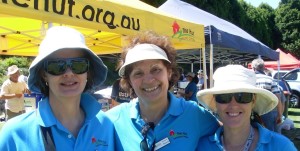 Volunteering at The Hut is rewarding and satisfying. As a Hut volunteer we will match you with a task that is both challenging and appreciated and will provide you with an opportunity to help others in the Hills community. It is important to us that our volunteers gain a sense of personal achievement in knowing they have made a difference to the community in which they live.
People volunteer for many reasons. Some of our volunteers say they like using their skills and experience to give back to the community or to help people in need. Others enjoy learning new skills, meeting new people in their community, and building friendships. Some volunteers want to increase their employability or get work experience.
Our volunteers come from all walks of life, with a diverse range of knowledge and experience. Some volunteer in long term roles whilst others assist with short term projects.
Whatever the motivation, without volunteers The Hut could not run its administration, provide social activities, give much-needed assistance to members of the community, drive the community buses, teach computing, run our organic food co-op, the Community Shed, or our health and fitness classes.
Find out more about volunteering for The Hut in our FAQ page.