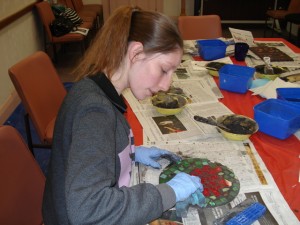 A range of accredited courses and self interest workshops are available at The Hut.
These are of benefit to people looking to enhance their skills to assist in gaining employment, upskilling or just for general enjoyment.
A great selection of accredited computing courses are offered each term by dedicated tutors, these usually run between 6-8 weeks and have a $20 Centre Booking Fee.
Courses are flexible and designed to go at the pace of the participant to ensure you gain the most from your course, additional support is available if required.
Mosaics, art & craft, and woodworking are just some of the fun self interest workshops that are on offer throughout the year.
If there is something of interest to you that we are not currently running, please feel free to let us know.
Click below to find out more