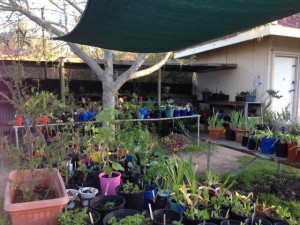 A range of activities are organised by The Hut and held at various locations in the community each week. These have a social focus and provide the opportunity to share knowledge and be with others who have similar interests.
Please see the calendar below for more details.
If you would like further information or to have a chat with Bernadette, The Hut's Community Development Manager, feel free to give her a call on (08) 8339 4400.
Activity
Day
Time
Cost
Venue
Bloke's Club
Tuesday fortnightly
1.00pm-3.00pm
$5.00
Bridgewater
Social Club
Out and About
2nd Tuesday of month
12.30pm
pay for meal
Various venues
Music Makers
Each Tuesday
9.30am-12pm
$10.00
Grace Lutheran Church Bridgewater
Plant Rescue
Tuesday and Friday
9am – 2.30pm
no cost
The Hut Community Centre
Organic Food Co-op
Fridays
10.30am-11.30am
membership
Aldgate Valley
Hall
If you are registered with the Adelaide Hills Council for Home Support Services you may be eligible to go on the 'Community Bus Mystery Trips'.
Click here for more information.